Introduction and Company
Organisational strategy is the whole activities and actions of an organisation to reach with desired goals and objectives.
It helps in developing and making a company to achieve their targets by determining the corporate culture.
It enables an organisation to distribute required resources to address the priorities.
Tata Motors is an international automobile manufacturing company.
There are various products of an organisation which includes passengers, cars, sports cars, construction equipments and so more.
It is the biggest automobile company which provide variety of products to their customers.
Organisational Strategy
Tata motors develops strategy to increase the capacity of company by developing trust and loyalty among all staff members.
It also helps in developing its strategy to capture whole market place. The main motive of this company is to satisfying and fulfilling customers needs and requirements.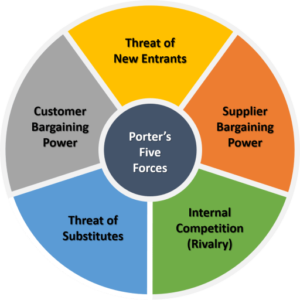 Porter's five forces
PESTLE:
PESTLE
Political: It affects the company performance.
Economic: This factor analyse the economic condition and it affects on business growth.
Social: It helps in evaluate customers needs and wants.
Technological: New methods and equipments assist in increasing profits.
Legal: Laws and regulations affects the business environment.
Environmental: Need to use only friendly products and services.
SWOT Analysis:
Strength
Weakness
•Strong parent base

•Brand equity

•Global presence

•Provides variety of equipments and cars

•Poor technical base

•Lack of uniqueness and creativity

Opportunities
Threats
•Huge investment

•Expand business operations in different areas

•Intense competition

•Increasing in income and profitability
MC Kinsey 7S
Strategic model allows an organization to deal with competitive market place.
MC Kinsey model involves seven elements that help company in achieving goals.
There are 7 elements that are divided into soft and hard components as under:
| | |
| --- | --- |
| Hard Elements | Soft Elements |
| Strategy | Shared Values |
| Structure | Skills |
| System | Style |
| | Staff |
VMOST
Vision: Provide best cars at reasonable rate.
Mission: Tata Motors focus on offering standard and high tech cars.
Objectives: Offers best technological and unique cars to customers.
Strategy: Focus on competitive pricing tactics.
Tactics: Limited range with price change policy.
Value chain
Manufactures
Distribution
Store sales
Marketing
•Local suppliers

•National suppliers

•Global level suppliers

•Use accurate channel for distribution

•Distribution centers

•Tata motors established in different areas

•Well trained employees to sales

•Social media

•Develop relationship with customers

•Websites
SFA ANALYSIS
Suitability, feasibility and acceptability of Tata Motors is describe as follow:
Option 1

Market development (Asian)

Option 2

New range of product

Option 3

New area for expansion

Suitability
6
6
6
Feasibility
7
7
5
Acceptability
7
6
5
Total
20
19
16
FIMO ANALYSIS
Hyundai Motors
Tesla  
Audi
2019
2018
2017
2019
2018
2017
2019
2018
2017
Total Revenue
4000
4055
3300
7000
4000
3340
25454
23434
234
Cost of sales
1343
1565
1654
6000
3450
2900
15656
16767
14545
Gross Profit
2657
2401
1646
1000
550
440
9798
6667
14311
Net Income
450
480
1123
1345
765
3342
2434
1565
1232
Risk Assessment
The risk assessment of Tata Motors propose as follow:
| | | | | |
| --- | --- | --- | --- | --- |
| Recommendation | Risk level | Likelihood | Rating | Project Impact |
| Enter into Asian market | 3: Moderate risk level | Less likely as automobile market growth can be increase. | 5: Need high cost and financial stability | 4: Less impact due to low cost |
| New range of product | 4: High risk | Likely due to original capability | 6: Require huge investment on R&D | 4: Less impact |
Recommendation
It can be recommended that Tata Motors should develop mission and decision making which is taken on allocating resources in entire company.
Tata motors leaders determines and evaluate the way of growth that should be taken to increase the business operations.
Tata motors goals is to provide variety of products and services to desired clients.
Reflection
Tata Motors focus on taking higher position in the large market place.
The company is competing with other local automobiles as it also provides great quality of goods and services at reasonable rate.
An organisation focus on maintaining and increasing success level of the firm.
Conclusion
Tata Motors is successful in the automobile sector with the helps of using cost saving policy and strategy.
The company maintaining business operations and develop effective strategy to achieve higher goals.
It assist in managing whole business and attract large number of customers.
References
Williams, D.J., Faiz, M.A., Abela-Ridder, B., Ainsworth, S., Bulfone, T.C., Nickerson, A.D., Habib, A.G., Junghanss, T., Fan, H.W., Turner, M. and Harrison, R.A., 2019. Strategy for a globally coordinated response to a priority neglected tropical disease: Snakebite envenoming. PLoS neglected tropical diseases, 13(2), p.e0007059.
Vinod, V., 2020. A study on Human Resource's Business Partner Strategy within the Organisation (Doctoral dissertation, Savitribai Phule Pune University).
Candido, C. and Santos, S.P.D., 2015. Strategy implementation: What is the failure rate?. Journal of Management & Organization, 21(02), pp.237-262.
Nasab, S.S., Jaryani, F., Selamat, H.B. and Masrom, M., 2017. Critical success factors for business intelligence system implementation in public sector organisation. International Journal of Information Systems and Change Management, 9(1), pp.22-43.