Introduction
Marketing is a set of various activities and functions that are associated with purchasing and selling of products or services.
Marketing tools assist a company to formulate market share for their goods.
This is the management process which assist in recognising customers requirements and needs in better way.
Different Marketing Process
Situational Analysis
Marketing Strategy
Implementation and Control
Situational analysis
It is that tool that are used by organisation manager to examining their internal and external environment.
It can help in evaluating and understanding the company's capability, buyers and business environment.
It can be used to assess the high level of rivals that helps in developing negative influences on firm growth and success level.
Marketing strategy
This is an effective method for planning and operating with fundamental targets for reaching with competitive benefits.
H&M also formulate accurate strategy and tactics which can assist them in promoting different products or facilities in large market area.
Implementation and Control
This is one of the essential marketing procedure where they are manage and implement the business functions in proper manner.
It is such process which ensure regarding the achievement of set goals and targets of the company.
Role and Responsibility of Marketing Manager
In H&M company, marketing manager plays an important role in different marketing strategies and plans in proper way.
The marketing managers also make sure about the company's goals and objectives in an effective manner.
The main duty and role of marketing manager to formulate strong relation between business goals along with marketing plans.
Influence of Marketing on other functional department of H&M
This can be examined that marketing decisions are majorly influences with various departments or divisions.
It is related with different departments that involves sales, finance, purchase, HR and so more.
An organisation also formulate proper marketing plan in such way through which they can easily satisfying all the department needs or requirements.
Importance of Marketing in H&M
Fulfil customers needs and wants: An organisation can easily examine customers choices and preferences through the usage of marketing methods.
Develop utility: With the helps of effective marketing strategies, H&M can easily increase their utility among clients.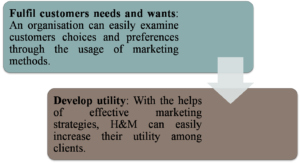 Significance of Interrelationship between departments of H&M
H&M has different functional divisions that are manage and maintain business functions and its operations effectively.
This involves various departments such as customer service, finance, sales and marketing, research and development and production, etc.
These departments perform their roles and duties in achieving company's goals and targets.
Conclusion
From the described presentation, marketing is an essential components that assist in examining the customers requirements and needs.
The marketing head manager assist in maintaining whole business functions and its operations in satisfying their customers wants.
Marketing is an important procedure which helps in achieving potential organisation goals and objectives.
References
Manion, C.R. and Widder, R.M., 2017. Essentials of essential oils. American Journal of Health-System Pharmacy, 74(9), pp.e153-e162.
Nikiforova, S., 2018. The study of the correspondence of marketing instruments to the stages of the start-up life cycle. In MATEC Web of Conferences (Vol. 239, p. 07004). EDP Sciences.
Cluley, R., 2018. The construction of marketing measures: The case of viewability. Marketing Theory, 18(3), pp.287-305.
Caliskan, A., 2019. Applying the right relationship marketing strategy through big five personality traits. Journal of Relationship Marketing, 18(3), pp.196-215.
Avila-Robinson, A. and Wakabayashi, N., 2018. Changes in the structures and directions of destination management and marketing research: A bibliometric mapping study, 2005–2016. Journal of Destination Marketing & Management, 10, pp.101-111.